---
구글 번역시스템을 이용하여 자동 번역중입니다. 번역이 정확하지 않을 경우가 있습니다.
It is under automatic translation using Google translation system. The result may not be accurate.
---
---
Forming the Regional Innovation Industry Infrastructure
Regions that can be developed with the Jinju Innovation City
Forming a cluster of the backup cities of Gwangyang Bay Free Economic Zone
Connected to Sacheon-Jinsa, Western Gyeongsangnam-do High-Tech, Jinsa Foreigner Only Industrial Complexes
Located within 50km of POSCO Gwangyang, Masan Free Economic Zone, Changwon National Industrial Complex, Geoje Daewoo·Samsung Shipbuilding etc.
A City with a Long Tradition of Higher Education
7 colleges and Universities (4 universities including Gyeongsang National University and 3 colleges)
90 Elementary, middle, high schools (45 elementary schools, 45 middle and high schools)
Special-purpose high schools Gyeongnam Science High School, Gyeongnam Physical Education High School, Gyeongnam Arts High School
'A young and vibrant city where students make up 24.1% of the total population'
Sophisticated welfare·Medical facilities
Central city of the Western Gyeongsangnam-do where medical facilities are converged
Expanded modern welfare·medical facilities and high quality medical services
Culture·Environment City Providing High Quality of Life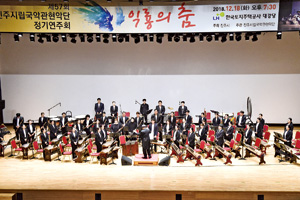 Benign climate, a center of traffic network, an environment-friendly city
A beautiful lake city where the river runs through the town
A city of well-being that provides an abundance of culture·leisure facilities
Providing the best support for business activities
Factory site lease, subsidies, tax reduction and exemption
---
---
---