---
구글 번역시스템을 이용하여 자동 번역중입니다. 번역이 정확하지 않을 경우가 있습니다.
It is under automatic translation using Google translation system. The result may not be accurate.
---
---
Jinju Bibimbap
'Jinju Bibimbap' is also called 'Kkotbap'(flower bap, 'bap' is boiled rice) or Chilbohwaban(kkotbap in seven colors). Cooked rice is served covered with fresh greens and vegetables, cooked vegetables, and sliced raw meat seasoned with garlic, sesame seeds and sesame oil. It's delicate taste is peerless.
Jinju Eel
'Jinju Eel' specially has a light taste and does not smell fishy. People eat eel wrapped with sesame leaves that have plenty of vitamin c. Jinju grilled eel has a lean, non-greasy flavor profile, offering you the genuine local taste of Jinju.
Jinju Heotjesabap
In the old days, when rice was not available in plenty, the Confucian scholar who couldn't afford enough rice, studying until late evening and becoming hungry, sometimes performed fake memorial services with food, incense, and written prayer so that he could later eat that food. Jinju Heotjesabap(boiled rice used for the fake memorial service) originated from this funny story, and has been handed down as a traditional local specialty made in humorous allusion to the scholars of Jinju, which has been a home to scholars.
Jinju Naengmyeon(Cold Buckwheat Noodles)
Peculiar and rich sea product and beef-soup stock -
Jinju naengmyeon, or buckwheat noodle soup, is a traditional dish of Jinju. Its flavorful broth is prepared with anchovies, clams, mushrooms and beef. The dish is served with a delicious garnishing consisting of pan-fried beef, shredded cucumber and pear, kimchi, and egg.
Jinju Traditional Hanjeongsik (Korean Table d'hote)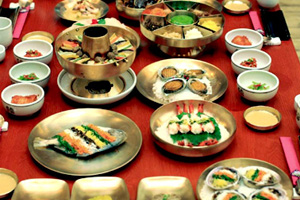 The splendid table set of Jinju Traditional Korean Cuisine
The traditional Korean set menu of Jinju is prepared with fresh seafood from the south coast and diverse wild vegetables from Jirisan Mountain. Its clean and refreshing tastes attract many food connoisseurs.
---
---
---